Arkansas Outlaw Racing LLC
Memorial Page
2008 Member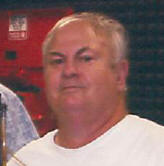 Hugh McCoy - September 19, 1942 to August 2, 2008
Massive Heart Attack on July 30th.

Mr. McCoy lived in Benton, AR and was the owner of McCoy Planning Services at the time of his death. He was a plant engineer and a member of the Prescott Methodist Church. Mr. McCoy was a graduate of Georgia Tech with a degree in Mechanical Engineering.

Some would remember Mr. McCoy back to the days with the roaster 4toGo racing a Prescott Raceway. Then his son started racing and he decided to become crew chief and give up the drivers position to his son.

Hugh will be greatly missed by the Arkansas Outlaw Racing family and want Layne to know that we are all there for him in any way.